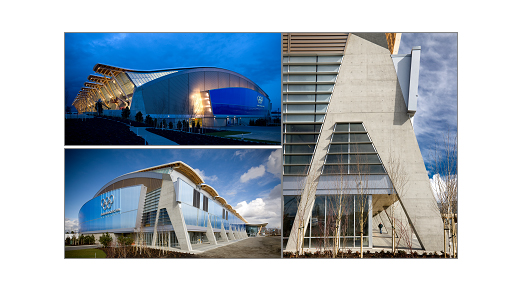 Welcome to the
2011 Vancouver International Open Judo Tournament
The Vancouver Seikidokan Judo Club and the Capilano Seikidokan Judo Club invites Judoka to participate in the annual Vancouver International Open Judo Tournament for Junior Boys and Girls, Juvenile Men & Women, Cadet Men and Women, Junior Men and Women, Senior Men and Women.
*THIS IS THE JUDO BC SELECTION TOURNAMENT FOR JUNIOR NATIONALS*
DATE:                                              Saturday, February 5, 2011
STARTING TIME:                       9:30 am   EARLY WEIGH-IN   7:30 am
PLACE:                                            Richmond Olympic Oval – 6111 River Road, Richmond, BC, Canada
Referee's  Meeting:                    9:00 am
There will be Provincial A, B, C & D Referee Grading at this tournament.
ELIGIBILITY: All competitors must be a member in good standing with Judo BC or their respective Judo Association. Proof of valid membership may be requested at Weigh-In
Competitors must be able to produce proof of age, rank, and Judo BC membership, if requested. All competitors who are NOT members of JUDO BC must sign (or, if under 18 years old, parent or guardian) a copy of the enclosed "Release and Indemnity" form.
CHECK-IN: All U-9, U-11 and U-13 divisions do not need to weigh-in but must check in to confirm registration. Exact Weight must be submitted with entry.
NOVICE BOYS & GIRLS U-9, U-11 & U-13       8:00 – 9:00 am
JUNIOR BOYS & GIRLS U-9, U-11 & U-13       9:00 – 9:30 am
WEIGH IN: Competitors must weigh in at the times shown below:
EARLY WEIGH-IN (OPEN)         7:30 am
JUVENILE/CADET MEN & WOMEN    8:00 – 9:00 am
JUNIOR MEN & WOMEN            9:00 – 9:30 am
NOVICE SENIOR MEN & WOMEN     9:30 – 10:30 am
SENIOR MEN & WOMEN            9:30 – 10:30 am
ELIMINATION: Modified double knockout format.
We would appreciate having any available BLACK and BROWN BELTS participate in refereeing and judging as well as other club members assisting in time keeping and scoring.
For directions, hours of operation, and information about parking click here.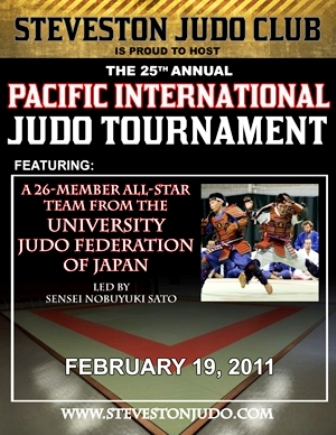 Welcome to the
PACIFIC INTERNATIONAL INVITATIONAL
JUDO TOURNAMENT February 19, 2011
The Steveston Judo Club cordially invites Judoka to participate in their 26 th annual Pacific International Invitational Judo Tournament. This year we are pleased to host an all star team of 22 competitors from Tokyo Universities, led by Mr. Nobuyuki Sato. This tournament now includes U-20 Junior divisions. All competitors must be green belt or higher.
This tournament is a Judo Canada Regional Points Tournament and also a selection tournament for BC athletes wishing to participate in the 2011 Canadian Senior Nationals.
A one day training camp directed by Sensei Sato will be held on Sunday, February 20 at the tournament site, 9 AM to 3PM with lunch break.
Date: Saturday, February 19, 2011
Place: Steveston Community Centre (Tennis Court Building), 4111 Moncton Street   Richmond, B.C.
Start Time: 10:00 a.m.
Referee Clinic: 9:00 a.m.
As this is a Regional Points Tournament, we would appreciate the assistance of referees National  "C" or higher. This is also a Referee Evaluation Tournament for National "A" and"B".
Blue Judogi: All contestants will be required to have both white and blue judogis.
Weigh-in:
Friday Feb 18th All divisions: 5:30-8:30 pm at Tournament Headquarters – (Executive Airport Plaza Hotel, 7311 Westminster Highway, RICHMOND).
Saturday Feb 19th – day of tournament:
All Divisions:  07:30  –  08:30 am at the tournament site.
for more details please visit